Thanks to the increasing number of hackers worldwide who try to hack into your internet connection to gain access to your computer and steal your precious data from it. It has become more important than ever before to use a VPN (Virtual Private Network) in conjunction with your antivirus or antimalware program.
Quickly Navigate to:
While these antivirus programs do offer you safety against attacks by malicious pieces of code, the VPN protects your incoming and outgoing data by encrypting them so that cybercriminals who somehow gain access to your network will be unable to steal any information.
Vendors of antimalware or antivirus programs have realized this threat and some of them include a VPN as part of their program. The amount of data they allow you to use is much lower than what you require.
Certain vendors offer you the option of purchasing a separate and unlimited VPN program too. Why should you depend on them when you can purchase VPN options from vendors that specialize in promoting this security option?
While there are many options to choose from, we shall pit PureVPN vs NordVPN today to find out which one of them offers the best value for your money and keeps your data safe even if you are accessing the net via a public WiFi network, which has the poorest type of data security and allows easy access to hackers.
What is a VPN and How Does it Work?
Before comparing NordVPN vs PureVPN 2021, you should understand the basics of virtual private networks, how they function and why they are important for you.
In simple language, this network creates a virtual and encrypted data between your computer and the remote server operated by the provider of the VPN service. All of your internet data, be it outgoing or incoming, is routed through this tunnel, securing your data against prying eyes.
Apart from this, the VPN provides you with a separate IP address, which masks your location and identity. Therefore, if you are unable to access your favorite streaming audio or video network because of your geographical location, you can access this network once you access them through the VPN.
In a typical scenario, your data reaches the server of the site you want to browse without any encryption, allowing cybercriminals to access it. The problem is less if you are logging on to an HTTPS (the "S" signifies "secure). However, there have been many occasions when even the security of an HTTPS server has been breached.
In the case of a VPN, your data first reaches its server in an encrypted form before being sent to the website you want to visit. This makes it impossible for anybody to trace back the data to your computer because it appears as if it was coming from the VPN server.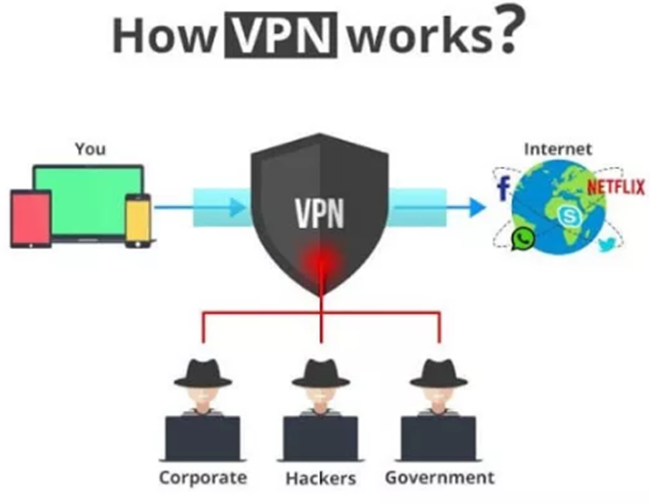 Safety First
You need to be extremely careful when connecting to the net via free public WiFi hotspots as you simply do not know who may be watching the traffic flowing through it.
Chances are that the WiFi network is not legit and is being operated by a cybercriminal whose sole intention is to hack your personal data such as credit card numbers, data containing your username and password for logging on to your bank's online network and other data you transmit each time you log on to the net.
You can be sure that no one will be able to access that data if you log on to the net via the same public WiFi network using a virtual private network… this also includes the operators of that network.
As I mentioned earlier, you can use a VPN to access sites blocked by your government as the server you are trying to access might have blocked the IP addresses of internet service providers of your country, but not that of the country your VPN provider is routing your data through.
A typical scenario is the Great Firewall of China, which blocks access to selected foreign websites. However, an advanced VPN can bypass the restrictions in China.
Now that you have understood the importance of a VPN, let us compare NordVPN and PureVPN to find out which one provides you with better value for your money without compromising on the security of your network.
PureVPN
Pricing
They have a 2-year subscription plan with a 31-day money-back guarantee at $2.88 per month. You pay $10.95 per month if you opt for a monthly plan or $4.08 per month for a 1-year plan. The vendors offer a special discount price on their landing page.
You can cancel the subscription within 31 days and get a full refund if you do not want to continue.
Ease of Use
I simply love their applications, which were extremely simple to use. This company has more than 2,000 servers in 140+ countries, and the number is growing every year. Their best feature is that they allow you to gain access to all of these servers irrespective of the package you select.
Unlimited Bandwidth and Other Features
Unlike the costly VPN plans included with your antimalware programs, there is no limit on bandwidth when you use PureVPN. Certain websites like your bank might restrict your connection to their servers if you use a VPN as it makes their server believe that somebody else from a different country is trying to gain access to your account.
You do not need to worry as this provider offers you split tunneling. This means you can access online sites via their VPN or through your ISP.
24×7 Customer Support
This company also offers 24×7 live chat support to help you in case you face any problem.
P2P (Peer-to-Peer)
They offer peer to peer enabled service, meaning you can use file-sharing programs with ease. You can also opt for their add-on, which provides you with P2P protection.
Fast Streaming and Download Speed
Download speed is no issue as the vendor has optimized dedicated servers, fully optimized for high-speed streaming. Upload speed is no issue either as their servers run on a 1Gbit backbone.
Easily Switch Between Servers
You can switch servers as many times as you want to prevent your internet service provider from throttling your connection speed.
Multi-User Account
To spice up things even more, you get 5 logins per household per account. This means that your spouse and kids can use the same account too simultaneously.
Available Dedicated IP Add-On
Go for their "dedicated IP" add-on if you want complete control over your online reputation.
Strong Protection
The DDoS (Distributed Denial of Service) add-on has the capability of defeating even the most complex DDoS attacks, ensuring the ultimate protection. The 256-bit encryption is military grade and is far more powerful than the 128-bit encryption offered in the VPN of your malware software's provider.
Kill-Switch
The vendor also includes an "Internet Kill Switch", a failsafe button that protects your privacy at all times.
Ozone and Port Forwarding
I loved two other add-ons… Ozone and Port Forwarding. The first one offers you proactive protection of your device, identity, and data 24×7, while the second adds an extra security layer to prevent hackers from exploiting loopholes.
Other Amazing Features
PureVPN also includes other amazing features such as:
• IPV6 leak protection
• Web RTC Leak Protection
• DNS Leak Protection
• IP Address Masking
• Anonymous Browsing, and
• Ad Blocking
Compatibility
PureVPN is compatible with all of your devices including Kodi or Amazon Fire Stick, Smart TV, Router, Smartphone, and PC.
While their desktop applications are available for both the Mac and Windows platforms, they have separate smartphone apps for iOS and Android-based smartphones.
If this is not enough, they also offer extensions for Chrome and Firefox and an applet that takes care of configuring your router.
NordVPN
Pricing
While comparing NordVPN versus PureVPN, I found out that the former too offers an attractive price tag at $3.49 per month with a 30-day money-back guarantee for a 3-year plan. This is the cheapest. They have a one month plan at $11.95, a one year plan that works out to $6.99 per month and a 2-year plan at $4.99/month.
While comparing prices during my NordVPN vs PureVPN comparison, I found out that the latter scores higher on the pricing front.
Shows Protection Status and Current IP Address in Use
Like other VPNs comparable to Nord, you can see the status of your internet connection… whether it is unprotected or protected… as well as details of your internet service provider along with your currently assigned IP (this is what hackers search for when trying to gain access to computers provided with a dynamic IP) the moment you visit their website.
Strong Protection
NordVPN provides 256-bit encryption, which is the same as that of its competitor. This vendor provides an OpenVPN tunneling protocol.
Country Selection
It provides fewer countries (62) than its opposition but makes up for that with a gargantuan 5,100 servers.

Live chat and P2P
This provider too offers live chat round the clock and has the same options as far as P2P users are concerned. It allows users to easily connect to P2P programs such as eMule and Torrent.
No Logging
I did not find any specific information about the other provider regarding log files, but this provider guarantees no logging, ensuring that your browsing activities can never be tracked.
Multi-User Account (6 Devices)
This VPN also scored ahead of its competitor as it provides the facility for six devices connecting to it from a single subscription.
Kill-Switches
They offer two different kinds of kill switches. This allows the user to terminate a single application or the entire internet.
Available DoubleVPN Servers
They also forge ahead as they provide their subscribers with access to their DoubleVPN servers. This increases the data protection twice.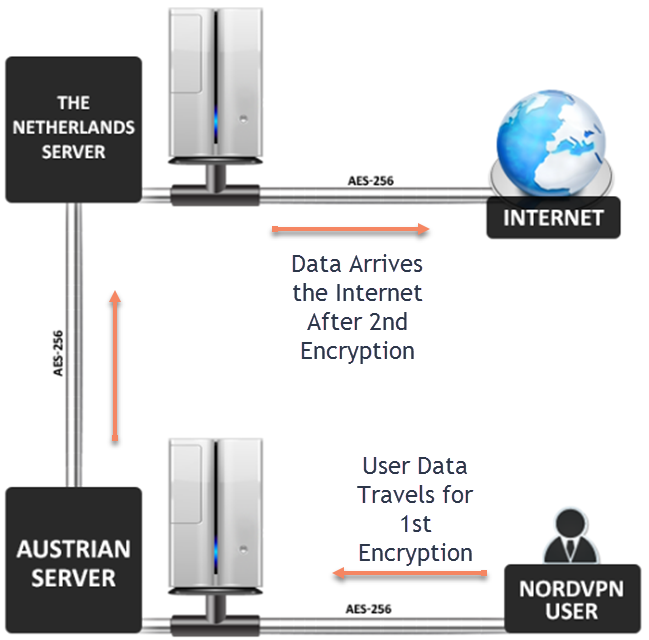 DNS Leak Protection
I found the DNS Leak protection available on both platforms. So, this is nothing special to cheer users who ask: "is NordVPN better than PureVPN?"
This feature is vital to users who want to manually connect to the VPN rather than through OpenVPN or for those who have recently reset their Windows because this makes their computer prone to DNS leaks and unprotected DNS requests in the process.
Onion Over VPN
Onion Over VPN is another great feature that permits subscribers to first route their traffic through their VPN and then send it to their Onion Router… as an excellent piece of protection for individuals who use programs like mIRC to visit the dark web.
The other features of this vendor seem to be at par with that of the other VPN service provider. NordVPN offers different types of encryption technologies for the Windows platform and for both MacOS and iOS.
Compatibility
When pondering about NordVPN or PureVPN, I noticed that the former, in addition to support for Android, Windows, MacOS, iOS, iPad, iPhone, also has support for Android TV as well as the Linux operating system. It also supports the operating system employed by BlackBerry smartphones.
Browser Support
Both of them offer extensions for Chrome and Firefox browsers. Nord, in addition, offers proxies for Chrome, Windows, Opera, Safari, and Internet Explorer, giving it an edge over PureVPN.
Windows Support
Nothing is mentioned about the different variants of Windows that PureVPN supports, but NordVPN supports Windows XP, Vista, Windows 7, 8, and 10.
Which VPN is Better? NordVPN or PureVPN
After having comprehensively checked the features of both vendors, I feel sad to inform users who ask: "is PureVPN better than NordVPN?"
Both of them have their good points. However, Nord has an extra edge when it comes to additional features which it includes along with the basic price, rather than sell separate modules as plug-ins.
NordVPN vs PureVPN Speed
I compared the speed of both and found out that both of them are more or less the same.
In Terms of Privacy
Both of them offer privacy but Nord raises the bar by offering double encryption. This puts it further ahead of Pure.
Conclusion
In this review, I give higher rankings to NordVPN compared to PureVPN despite the fact that the former has servers in relatively fewer countries.
While both offer relatively the same degree of performance, the double encryption of Nord gives it an edge over Pure as far as privacy is concerned.
If you ask me: "which is best?", I would, without hesitation, support NordVPN even if it does not support ad blocking.